Creating Art with Wood since 1992

---



Click on pictures for more detailed images.
---
My love of diving and marine life led me to create a line of
Jewelry Box Designs that I think you will find artistically unique.
Have a look at these extraordinary handcrafted dolphin & whale
boxes, made from a selection of fine woods, most
exceptionally, Hawaiian Koa wood.
---
KEIKI DOLPHIN BOX

"Keiki" means child in Hawaiian which is where I was living when I designed this box. This delightfully unusual design is really something special.
The Keiki Dolphin is pleasing to the touch and enchanting to behold. Lifting off the top by the dorsal fin gives access to the compartment below. One of my most popular gift items! (6" long, 3.5"wide, 3.5"deep)$195.00
---
STRAIGHT BACK DOLPHIN DRAWER BOX
Built into a finely finished wave shaped frame this elegant little box has five uniquely cut drawers held in place by the stationary dolphin to keep anything that deserves that special place.  Small fish are crafted from matching wood and are attached as drawer pulls to complete this distinctively special drawer box. Made from Exquisite Koa in two shapes and sizes, the straight back (pictured)  6" long, 4" wide $260.00 and the curved back box 7" long $300.00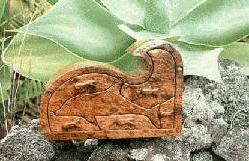 ---
Humpback Whale Box

Store your treasures in this elegant, multi-compartmented whale box.  The dowel hinged top compartment has a crafted whale tail for a drawer pull. The compartment in the mother whale is accessed by using the baby whale drawer pull.  There are two additional compartments beneath the body of the whale.  The Humpback Whale box has been the favorite for those special occasion gifts. 12" long, 4" wide and 6" deep.$600.00
---
CARVED WAVE DOLPHIN BOX

This is an exceptionally beautiful box! With waves carved into the framework and five drawers fitted around the stationary dolphin, this is truly a unique showpiece. 12" long x 3.5" x 6" $700.00
All pieces are finished with a hand rubbed oil. They require no special care aside from occasional dusting. Should you desire to buff them out from time to time, always use a soft, dry cotton cloth and rub with the grain.

All boxes are signed, numbered and dated on the bottom.


Unfortunately photographs just cannot do justice to the rich texture and quality of these pieces made from solid blocks of fine wood. They really should be seen and held to be fully appreciated! Over the course of several days, the time in actual labor it takes to create one of these pieces is at least 15 hours for the smallest box (The Keiki), and up to 50 hours to make the largest, most labor intensive box
(The Carved Wave Box).
---
---
SiteRing by Bravenet.com
---
---
Victoria's Handcrafted Creations
P.O.Box 26116
Eugene, OR 97402
E-Mail
© Copyright 2000/2003 Victoria Jensen. All Rights Reserved