Dophin & Whale Photographs Only


NO LINKING PLEASE!!
Download or Transload only

---
Since I no longer have any more
whale or dolphin photographs of my own
(outside of a couple pilot whale pics), I was
very pleased to find a number of sites that
allow you to download or transload dolphin
and whale photos, graphics, buttons and lines
from their sites. I have been very careful
not to trespass on any copyrights but if
I've made any mistakes please notify me and I
will remove the photograph at once.
The dolphin photographs on my "Home" page
are copyrighted by Tiggerlily who has
given me special permission to use them. She
taken some beautiful dolphin and orca pictures
that may be viewed on her lovely web pages.
Below are links to the sites that I have
borrowed from and below them are sites that
have images available but that I may have ended
up not using so that if you want to make a
web page because you love dolphins and whales
and don't have your own photos, this will
hopefully shorten your search. I suggest
you visit these sites and download from
there. Since they are the ones claiming
public domain, you may want to see if
there are any updates. All of these are
really great sites with information,
stories, poems and more links. Be
sure to give credit and/or a
link to the web pages from
which you "borrow".
Note: This page concerns the Whale and Dolphin photos only. To find information about my personal photographs use the link below.


---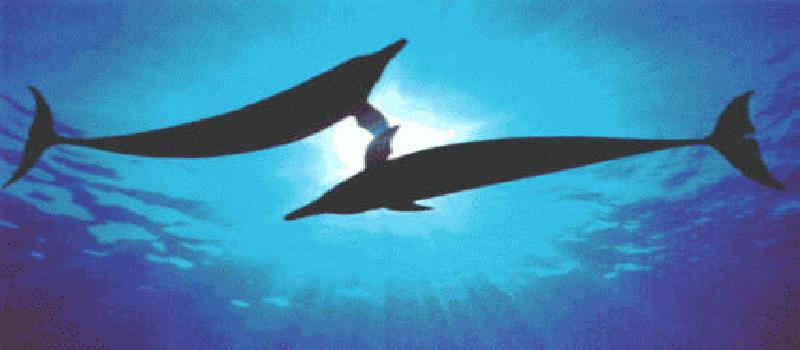 ---
National Oceanic and Atmospheric Administration
Check out the Central Library
| | |
| --- | --- |
| | National Marine Sanctuaries |
| | |
| --- | --- |
| | National the Central Library |
| | |
| --- | --- |
| | A really nice complete little site to visit. |
Mega Photo Source!
A Beautiful site with stories, poems & lots of info.
| | |
| --- | --- |
| | Some public domain photos, graphics & info |
| | |
| --- | --- |
| | Lots of animated pics of dolphins plus 150 sites of all types of animals! |
| | |
| --- | --- |
| | Mike Oldfield's site, lots of whale stuff |
| | |
| --- | --- |
| | Lots of animated graphics |
---
My special thanks to these web sites, for without them not a single page would have been possible.